Early Morning Class (instructor-led)
This 7am Eastern time class introduces a variety of arts and practices. Classes are streamed live on our Wudang YouTube Channel. Recordings are available after the class.
This class covers a variety of arts on a rotating schedule. For several weeks, taiji may be the focus. At another time, bagua or xingyi or sword or something else will be presented. Practice is scheduled on the YouTube channel. Announcements are made during class to address scheduling and class content.
This class consists of a live stream, instructor-led class with a recording of the sessions available.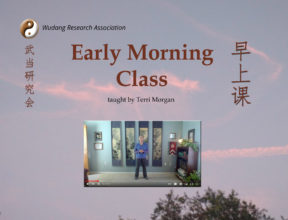 Class Includes:
Videos: Lots and Lots
Live sessions: Yes
Class time: ~45 minutes
Workbook: No
Cost: Free
Delivery: Online/YouTube