The International Wudang Internal Martial Arts Research Association (Wudang Research Association) was registered as a regular corporation in the United States in 1996. We are registered in good standing in Kansas and Florida. We operate internationally. We have two core focus areas: Business Services and Martial Arts Teaching and Research.
Our Consulting Services concentrate on the needs of companies in the US and China for enhanced communications, information management, translations, and trade facilitation. We are a Microsoft Registered Partner.
Our Martial Arts classes cover taiji, xingyi, bagua, traditional sword, and other internal arts studies. Our research focuses on the health benefits of taiji and qigong, refining practice methods, and the martial arts classics.
Originally founded in China in the early 1980's, the goal of the Wudang Research Association has always been to promote study and research into the philosophy and practice of traditional Wudang martial arts. In August 1996, the US-based association was founded. In November 1996, we brought the first edition of our web site online. Our purpose was to provide resources for those who wish to learn about Wudang Martial Arts, their long history, and their philosophical foundations.
In 1998, we completed our second publication, Wudang Qigong (Breath Exercises), presented in both the original Chinese and English. We have completed several other publications and continue our work via new media as well as traditional print. Our most recent publication is Prof. Liu's book on traditional Wudang Taiji. It is fully illustrated with each exercise discussed in detail and includes original commentary on several classical treatises.
We are registered with the following corporate service and regulatory agencies.
Individually and as a corporation, we have held memberships in several trade and professional organizations. In addition to our own policies and practices, we fully subscribe to the Codes of Ethics and Professional Standards promoted by these groups.
We are proud to have been among the early internet pioneers. Our site has operated continuously in English and Chinese since 1996. Our visitors regularly include people from over 160 countries and 100 domains.
Annual Traffic Chart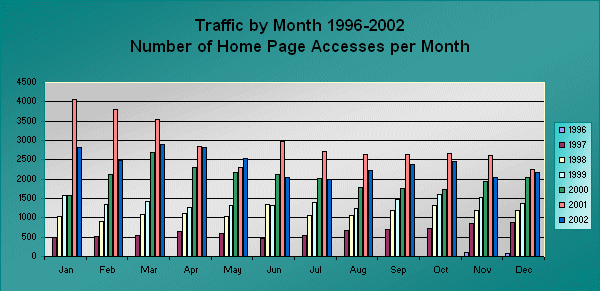 Any personal information about anyone that we may request or obtain for business purposes belongs to that person, not to us. We do not now, nor will we ever keep, rent, sell, use, or in any way pass on any information about anyone, without that person's prior informed, written consent.
The only time we receive any information about a specific visitor to our site is when that person decides to contact us. We use cookies only if you have logged into the site and we don't collect personal information (address, phone, etc.) about anyone unless that person has specifically requested or purchased something from us.
Our mailing lists are strictly opt-in. If a person wishes to be on one of our mailing lists, he or she must specifically request to be added in writing/email. We are the only ones with access to our mailing lists. We do not now and will not ever sell, rent, or otherwise distribute our lists.
Please have the courtesy to respect our work and our copyrights. This material is NOT public domain; it is posted here for viewing only. We are living authors. Our work is not here for you to take. It is here to help everyone learn. If you are a student or researcher, and wish to use material in an academic paper, please ask in advance and then give us proper credit as your source. After you finish the paper, please send us a copy or a link to it on your university server. If you are a commercial publication, please contact us directly for permissions. If you are a commercial site and wish to give your visitors a link to our site, we would welcome the traffic and would be happy to reciprocate as appropriate. But please… don't take material from our site and post it on yours. We'd much rather you ask your friends to visit us. We like having more visitors. 
All the material on our site was originally authored by Terri Morgan or Prof. Yuzeng Liu, unless specifically credited otherwise. The design and philosophy behind the site are the product of Terri's efforts, coding skills, and general research. While we have some excerpts from the classics, most of the commentaries and other materials presented in Chinese were originally written by Prof. Liu and provided over the period between 1996-2000 for use by the company as his equity contribution. All original material in English was written by Terri Morgan. Translation of Prof. Liu's material from Chinese to English has been mostly handled by Terri. If we are using material from a public source, we have given recognition and provided a link to that source.
Formal notice
Protected under United States Copyright law and the WTO Trade-Related Aspects of Intellectual Property Rights (TRIPS) agreement. Any unauthorized reproduction of this material or any part of it is expressly forbidden. No part of this publication may be reproduced in any form, translated into any language, or distributed in any media without the prior express written permission of the copyright holder.