How we got started : Wudang Research Association
This room will look familiar from my videos. The four seasons paintings are appropriate. Time passes through the seasons. If you scroll down this page, you'll see another image of this chair in a different room from a different time. That time was 25 years ago this year: 1996-2021.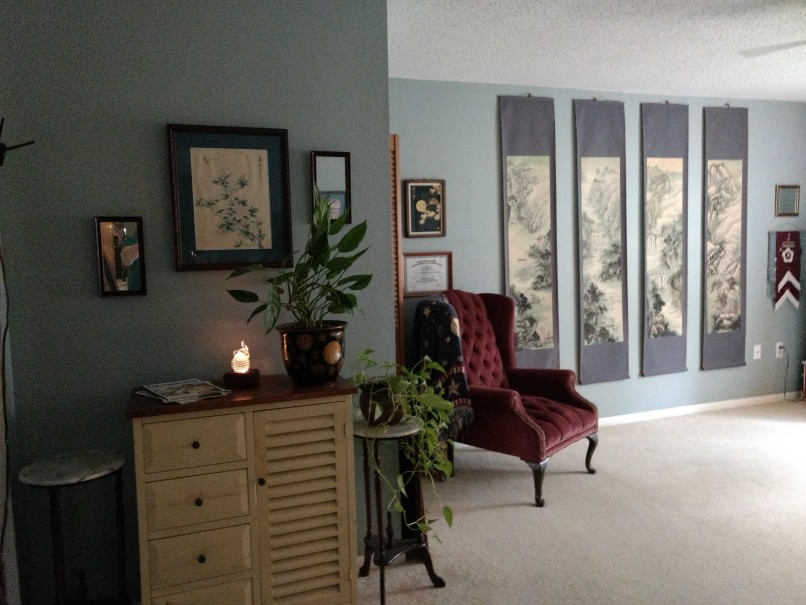 How did we get here? Where is here? Why? Why does it matter? What are our origins?
These questions have come up from time to time and should be answered. It's an interesting story that crosses two continents and an ocean. It seems now is a good time.
The Wudang Research Association (long name: International Wudang Internal Martial Arts Research Association) was founded in my home office at 8229 Perry Street in Overland Park, Kansas in August of 1996. We registered the company online in Delaware using CompuServ (have to go way back for that one). Prof. Liu was visiting. We were discussing setting up a publishing company to translate and publish his work. I found a way to do it "instantly" – it was a service back then, not what the internet is today. So with him looking over my shoulder, literally, we registered the company.
It was important to him then, and from what I saw and understood, important for anything in China at that time, to include the word "International" in the name. Many Chinese companies have a city/state location in their name. It made for a long name. But it sounded great in Chinese : 国际武当内家拳研究会。
I shortened it to Wudang Research Association for most things.
The long name is the official name. But for most business transactions and many, many forms, the long name in English is simply too long. Informative? Absolutely. But it's still long.
In late 1996, I got a bill for services to maintain the company from the registered agent in Delaware. I was already paying $100 / month for a 5 MB space on a shared server at Earthlink. (I still have the receipts.) So, paying registered agent fees wasn't something I wanted to do. I moved the company to Kansas – where I lived at the time. On January 1, 1997, I registered the company in Kansas. It's been registered in good standing there for 22 years. I'm going for 25.
The technical details I needed to wade through to put up our first site were arcane. HTML 1.0. It was 1996. Hot Dog was my editor. I gave a presentation that included parts of this in Chicago. It was on the strategy I used to set up the site: Make it accessible on any device, anywhere. Same as today. Different tools.
We launched the site in November 1996. I started a change log. I've mostly kept it. 22 years of changes.
What happened after that is partly documented on our site and will be more fully documented as I add more materials. What happened before that is not well-known.
For my part, I had been a student of taiji before I went to China in 1990. I'd won the Yang style taiji division (period, top score) at the first all-Chinese styles tournament in the United States, Houston, 1989. I went to the tournament in 1990 – US road trip on my way to China – and placed third. I wanted to learn and going to China as an English teacher I hoped would give me the chance to meet a teacher and learn the language. I liked languages. Still do.
I was in Zhengzhou. It was February 1991. It was cold. Really cold. I had gone to stay with a family there. I had an interpreter/friend who had arranged for me to study with a local 'master.' But when I met the person, it seemed I knew more about what I was doing than he did. He gave me corrections that I knew were wrong. I couldn't. So I canceled that. (Actually, my friend told him something – I was ill. Had to return to the college. Something.)
And the next morning got up at 0-dark-thirty (about 4:30 am if I recall) to go to the park. Yes. It was winter. We were going to the park at 5:00 am in the winter. It was dry though. I don't remember snow that day.
We got to the park and started walking around. My first time going to that park — a park that would become like my second home for 28 years. In 1991, it was quite different than in 2018. There were lots of people practicing different forms of taiji and martial arts, ballroom dancers, and ping pong players with some traditional Chinese dance, opera, and a few joggers.
I saw several groups of people practicing Yang style taiji and several others practicing Chen style. There were a few groups practicing Shaolin arts. They were mostly children. As we came around a turn in the sidewalk, we came upon a group of people practicing xingyi. I wanted to stop for a minute. I'd seen the art, but hadn't seen a group practice. The teacher came over to speak with me.
His name was Liu Yuzeng.
He wanted to know if I liked martial arts. Yes, and I explained my background. He wanted to see me do something. I showed part of Yang style taiji. He asked Zhang Yuting to show me part of their system – Wudang taiji. I watched for a time. Then, he asked if I wanted to learn it. It was so different and so much more lively than what I had been doing. There were similarities to Liu He Ba Fa but it was more complex, with a richer flavor. I absolutely wanted to learn it.
I spent the next several days getting up early to go to class and practicing in the afternoon. I was a fairly quick study but there was a lot to learn. To be studying with someone at Prof. Liu's level was difficult. Sometimes, it was a bit like asking someone who has never taken a college course to write and defend a dissertation. I wasn't afraid of hard work, especially when I wanted to learn something. I'd done a similar directed study in philosophy one semester. Learned a lot, but the Professor was tough. It was hard work. After I graduated, I became a technical writer. Good money and regular work back then. Organizing and making sense out of large amounts of information and putting it into book form. That matters for the end of the story.
This site, the materials, and the books we published and have yet to  publish are the result of the past 28 years.
Prof. Liu's history is more complicated. But his martial arts lineage is clear and well-documented. He's been writing and publishing in China for over 50 years. I have copies of some of his books and some of his contributions. He's told his story many times.
When he was a boy, he started learning Shaolin martial arts from his grandfather, Liu Wenzhou. His grandfather provided security for travelers between Zhengzhou and Kaifeng. A friend of his grandfather's, Wang Xixiao, came to live with the family. He had been a senior abbot at one of the temples at Wudangshan. He began teaching the young Liu Yuzeng. From his stories, that teaching was very demanding and not gentle. But he wanted to learn.
Subsequently, he became adept a both internal and external arts. He studied under Su Xi at the Shaolin Temple at Song Shan. (I had the privilege of meeting Su Xi.) He studied Xingyi with Zhou Tieching.
The list of Prof. Liu's accomplishments and publications is long. Really, really long. Back in the 1980's and 1990's he was a prolific writer. And he wanted to have his works translated and published in English.
And that is why, back in 1996, it made sense that we would form the Wudang Research Association – to translate and publish books.
Over the years, I've done much more with the company than we originally envisioned. But I've always come back to this site and the archive that we have created.
As I write this, I'm looking at what is next for me. This site and the Wudang Research Association have been a big part of my life for almost 30 years. Neither is going away. I'm still going to be teaching, too. But I won't be adding new content to the site once I get the current round of changes finished. Some updates here and there of course. My efforts will be on something new I've started that is going to open the door to something wonderful that I don't know about yet.
That happened in 1990, too.
Terri Morgan
July 27, 2023
Welcome to the Wudang Research Association

The Wudang Research Association was originally founded in China in 1982 to promote study and research in the philosophy and practice of traditional Wudang martial arts.
The company was registered in the United States in August 1996. In November of that same year, we brought the first edition of our web site online. We have published several books and contributed numerous articles to other publications.
The US branch of the Wudang Research Association was created to bring the teachings and practice of traditional Wudang martial arts to the West. Famous in China but little known elsewhere, the Wudang martial arts have a long history. Named after the Wudang Mountains, they are an orthodox school of Chinese gongfu. Today, thanks to the opening of China and the efforts of many teachers, more and more people have become familiar with the practices, teachings, and benefits of Wudang martial arts.
When we began, there were very few publications in English which even mentioned Wudang arts, let alone provided resources for serious students. This created a serious challenge for anyone who was not fluent in Chinese. We wanted to remove this language barrier so those who wanted to learn could gain access to greater knowledge.
Our first step was the publication of this web site in November 1996. Our site is one of the first and remains one of the oldest dual-language English and Chinese sites on the internet. We followed with the publication of our first dual-language print book in 1998.